Sampeng Market Bangkok Thailand
3215
8
46
08.12.2022
20691
142
34
21.11.2021
TH
I spent my holiday taking the subway starting at Sukhumvit station. and go up to Sam Yot Station Then walk along the way, pass the Mega plaza Wang Burapha, pass China World department store, right next to the department store, there is a cart selling fried tofu. Good taste, delicious sauce, inexpensive price, and the owner of the shop often says to wish all customers who come to buy that they are protected by angels. Every time I come to this area I'm going to buy fried tofu. And stood and watched the owner of the shop with pleasure. when I'm full I continue walking to the Old Siam Plaza. Events are often held here. which combines many delicious food shops. If you have a chance to walk around Sampeng I would like you to take a walk in the old siam as well. After walking in old Siam for a while I continued walking to Sampeng. But I can't walk thoroughly. i feel discouraged Because there are a lot of people, usually on holidays such as Saturdays, there are already many people. Even more during Christmas and New Year, Sampeng is busier and busier than ever. Because Sampeng is a source of many things, gifts, souvenirs, decorations for the New Year, Christmas and festive items. I decided to leave Sampeng. By heading to Wat Mangkon Station to take the subway to Samyan Mitrtown, I stopped by Samyan Mitrtown because there are power sockets to charge the camera battery without having to pay a single penny. After charging the battery, we continue walking to MBK. - Video Shooting Date: 3 December 2022 Original Sound - Thank you so much for Watching I hope this video is helpful to you. If you like and Give me more Motivation to support me, please press follow and press the bell Follow Me: 🤍paitamnamwalkinthailand Fanpage : 🤍🤍facebook.com/PaitamnamWal... Instagram : 🤍🤍instagram.com/paitamnamwa... Youtube : Paitamnam Walk in Thailand 🤍🤍youtube.com/channel/UCWpM...
Кадры из видео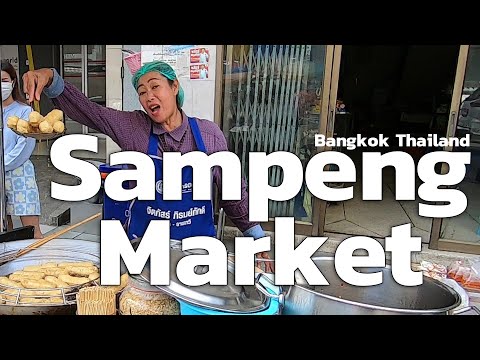 Комментарии пользователей:
Nilima Khan
2022-12-25 02:56:28
Hello, how to go their by BTS or MRT from Nana or Asok? Thanks in Advance
Alaska Taylor
2022-12-20 12:11:56
In morning when should we visit sampeng market?